Tim Barton
Contact Us
ChFC, CASL, CLU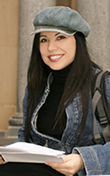 Student Trip Cancellation Insurance
Patriot Student
SM

T.R.I.P.

Student Travel Insurance Program

Patriot Student T.R.I.P. is a "budget conscious" travel insurance program designed to provide important benefits to students for many of those unforeseen circumstances that may force the cancellation or interruption of a covered trip. This program also includes coverage for trip cancellation or interruption travel and baggage delay, lost or stolen baggage, emergency medical expenses and emergency medical evacuation.

Worldwide health coverage for students pursuing their education abroad
Student Health Advantage
SM
Long-term, worldwide medical insurance for groups of 2 or more international students
Student Health Advantage is designed to meet the needs of student visa requirements for group members and their dependents. This plan includes benefits for maternity, mental health and organized sports. After a period of 12 months, pre-existing conditions will be covered as well.
Patriot Group Exchange Program
SM
Group cultural exchange student insurance plans
Designed for a group of students studying abroad or participants of a group cultural exchange program. Three plan options are available. Basic short term travel plan is an economical plan. Standard short-term travel plan is designed to meet the U.S. visa travel insurance requirements. Long-term annual plan has the flexibility to be tailored to meet specific needs of each program and can be renewed annually. Plans are available in monthly increments and if a minimum of 3 months is purchased, coverage may be renewed (without break in coverage) for a total of 24 months.



Travel medical insurance
Patriot Extreme
®

Travel Medical Insurance

Extreme athletics and adventure insurance

Patriot Extreme is designed for the adventurous International traveler. Patriot Extreme provides benefits for those traveling abroad who also intend to participate in a select group of athletic activities or extreme sports.